PERCY JACKSON
AND THE OLYMPIANS:
FREE Online Summer Book and Movie Club
Join Our Online Club:
• Reading The Lightning Thief
• Online Message Board Discussions
• Streaming the Movie
• Live Panel Discussions with Lightning Thief Experts
• Create a Radio Play of one of the Book Scenes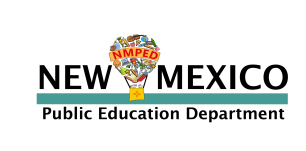 TK1 Productions Launches!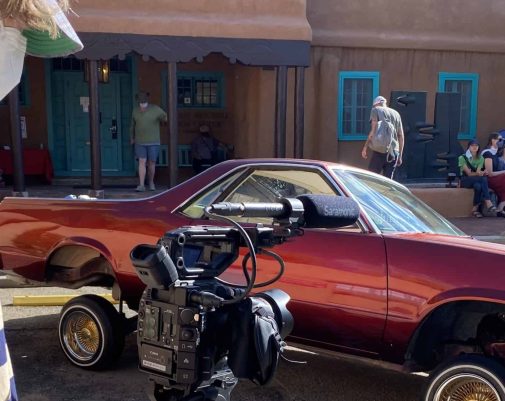 December 6, 2021
TAOS, NM — Today, TK1 is proud to launch its own production company, TK1 Productions. "We have so many special film projects on the go," says Pete Monro, TK1's Director of Media. "We've already shot all kinds of footage for our Lowrider documentary. We're in discussions with Taos Pueblo and the Harwood Museum to film and interview individuals involved in the Museum's new Blue Lake exhibit. And we're also teaming up with La Coalición to help students capture the stories of area elders, who have so much to share." TK1 Productions will launch its first finished products at the TK1 Youth MediaFest, a two-day extravaganza at the TCA on April 8-9, 2022. All details on the MediaFest coming!
* Lowriders Documentary. Lowriding is a favorite pastime, a hobby, something fun to do with the family. For others, it is a lifestyle, an obsession. For everyone, it is a cultural phenomenon that brings people together. This student-driven TK1 documentary investigates the meaning behind these resurrected, finely polished, sometimes wildly decorated pieces of mobile art. It is an outlet and often a life saver for people who grew up in Northern New Mexico. With so much footage already shot, our students are now busy editing interviews and B-roll into a final product. TK1 offers paid opportunities to assist with editing. Interested? Contact Pete today; more information here.
* Blue Lake Documentary.
Fifty years have passed since the official repatriation of the Blue Lake and surrounding natural resources to Taos Pueblo. Now
featuring at the Harwood Museum
is an exhibit entitled,
Commemorating the 50th Anniversary of the Return of Blue Lake to Taos Pueblo: A New Day for American Indians
. Now in pre-production, this documentary will interview key members of Taos Pueblo for their views, memories, and perspectives on this essential body of water.
TK1 offers paid opportunities to assist with the shooting and editing
. Interested?
Contact Pete
today.
* Stories of our Elders.
This project is a partnership between TK1 and La Coalición that will create a series of videos documenting dynamic and intergenerational connections between youth and elder communities in Taos. By exploring cultural and historical continuity — and discontinuity — and strengthening the notion of human identity and place, the videos will capture and preserve essential elements of our community and our heritage by highlighting the voices of our elders.
TK1 offers paid opportunities to assist with the shooting and editing
. Interested?
Contact Pete
today.
Come and see the best TK1 student work!
On April 8 and 9, 2022, TK1 will host an extravaganza of story: the TK1 Youth Mediafest. At the TCA, the event will feature work of TK1 productions, student videos, student photographs, audio clips, and much more. Stay tuned for all details!
A letter from our Board of Directors
Dear all,
We are about to experience the full impact of the measures taken by the authorities to limit the spread of COVID 19.
As disquieting as the pandemic is and as disruptive as the need to social distance will be, it has also revealed the need for distance learning and the holes in our community where both technology and the means to deliver it are lacking. Fortunately our community, in full response mode, has Kit Carson Broadband, True Kids 1, and the Municipal Schools collaborating to compile an inventory of computers and broadband access, to identify what is needed and by whom, so as to ensure equity in the delivery of home schooling to the children in our community.
LOR foundation has committed to help fill the computer gap and Adobe have committed to making its suite of products available for free for the duration of the crisis. This moment represents an opportunity for teachers to utilize technology which will enable them to support online student learning. It will also enable students to remain engaged with their studies and be exposed to technology and tools which will stand them in good stead both academically and vocationally.
The tools which will be deployed will still encourage the evolution of critical thinking and collaboration amongst students. You will be at the forefront of this pioneering endeavor working closely with teachers, workshop mentors, Adobe support and other resources to support online student learning.
This is extremely important work which you will be undertaking in the coming weeks and months, for which we your Board of Directors and the community at large are extremely grateful and proud of the service you provide.
Please be safe and follow all the appropriate public health protocols. With the fondest regards,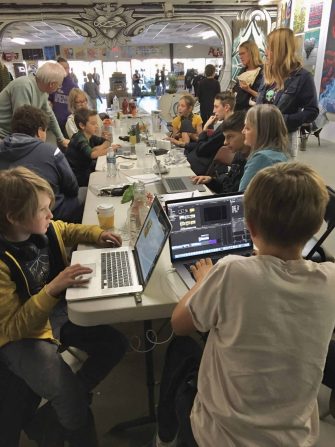 Taos Pueblo Public Service Announcement Video
Moreno Valley High School Recycling Initiative
Anansi Charter School 6th Graders Podcast