To promote digital citizenship and open career paths for youth by providing them with media skills, tools, and opportunities.
To transform education through media production for social change.
True Kids 1 (TK1) is a youth media education nonprofit founded in 2017 and based in Taos, NM.
TK1 prepares youth for success by helping them to develop:
Problem solving skills (i.e. critical thinking, collaboration), which are essential for both academic and career success

Technical skills that can open doors into New Mexico's growing media industries

An understanding of how to safely and responsibly use technology

Community engagement, so that they feel connected and empowered to contribute to their communities in positive ways
The True Kids 1 model consists of three basic components:
A pedagogical framework that supports classroom teachers to integrate collaborative civic media production projects into their regular curricula

Professional workshops for students, led by industry experts in areas such as interviewing, videography, app & game design, social media and podcast creation

Real-world projects (i.e. radio shows, video and journalism productions) in which students can gain experience working with clients and professional mentors
To TK1 digital citizenship combines critical thinking, media/digital literacy and civic engagement. We support youth to know how to access information, understand bias and messages in media, and determine credibility of sources. Our students use media to constructively engage with their communities and the larger world, sharing their ideas, voices, stories and culture.
This spirit underpins our work, ensuring all of our programs are relevant to today's youth, guiding them to realize their own potential.
We believe that empathy and curiosity are essential human characteristics, which allow for connections, community building and lifelong learning.
Retaining New Mexico youth
With 75% of New Mexico college graduates leaving the state, we believe it is crucial to train and provide access for New Mexico youth to work within the state's booming media industries. Developing this young workforce over time will also help attract more employers to the state.
Promoting arts and culture
We are dedicated to celebrating and promoting youth participation in and exposure to arts and culture. This includes the rich Native American and Hispanic culture in New Mexico, as well as classical music, opera, film, mariachi and more.
Civic Media is media for social good. True Kids 1 trains youth to be producers, rather than just passive consumers of media. We use media as a tool for young people to connect with their communities and engage with issues that they feel are important. All True Kids 1 projects address real world topics from a youth perspective, i.e. COVID-19, social justice, the environment, homelessness, bullying and substance abuse.
Responsible, safe use of technology and the internet
We are dedicated to preparing youth to safely and responsibly access and post information, and to understand the potential dangers posed by those using online communities to intimidate, bully, engage in inappropriate behavior, or disseminate propaganda.
We believe the digital space must be an inclusive one, and thus we prioritize working with low-income students, the disadvantaged and the vulnerable, and with students of color.
Rigor, professionalism, consciousness, and integrity
We believe that these "soft skills" are crucial to the success of young people in their future work and career.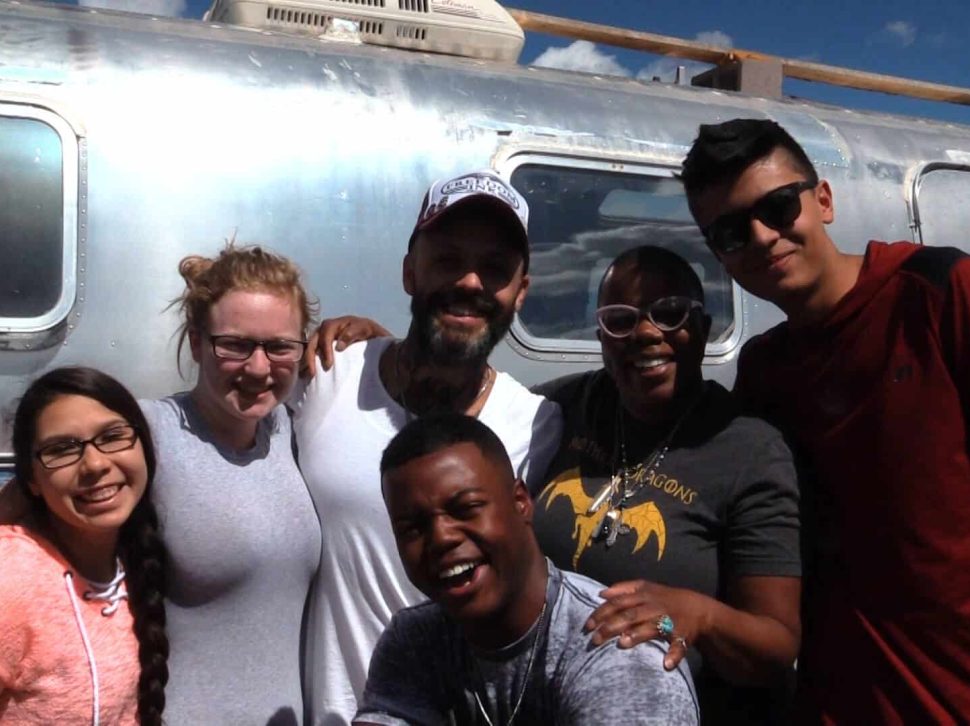 True Kids 1 began as a youth radio program at KNCE's airstream trailer studio in Taos, New Mexico, with local youth sharing live music and educational content. The project soon expanded to recording students from local K-12 schools, ranging from the Taos HS Mariachi Band to 2nd graders' poems about what it means to be an American, to segments on science and geography. As enthusiasm grew, the students became more involved in the production, and started recording video as well as audio.
In 2017 True Kids 1 was created to address the urgent need to provide youth with meaningful educational experiences that developed critical thinking about media, as well as skills that could open exciting career paths in media production. True Kids 1 teamed up with Dr. Yonty Friesem from the Media Education Lab at Columbia College Chicago and adopted his Hive educational model.
In 2018, we launched our first full year pilot in 14 K-12 classrooms in six New Mexico schools, training teachers in Dr. Friesem's model, and supporting the students with skill workshops delivered by professional media mentors. We also give our students opportunities to work on real world media projects such as our weekly radio shows, journalism and video jobs.
All True Kids 1 projects focus on community issues and positive social change. In 2018, our youth hosted radio roundtable on gun violence won the Best Student Newscast award from the New Mexico Broadcasting Association. Class projects from our first year pilot (including 6th graders' podcasts on homelessness, a middle school original film about climate change and a high school website sharing their recycling initiative) were showcased at the 2019 Imagining America National Conference for their innovative approach to education.
In 2019, True Kids 1 received a state appropriation through the NM Public Education Department to expand our model. We are currently working with over 30 K-12 classrooms in 14 schools in Taos, Colfax and Rio Arriba Counties in New Mexico, serving over 600 students. Our work is supported by partnerships with UNM-Taos & Albuquerque, Northern New Mexico College, PBS-NM, TSMA Consulting, George R.R. Martin's Stagecoach Foundation, Yogi Pro Design, United Way, and Moving Arts Espanola, as well as with institutions such as LANL and Shelby Cullom Davis Foundations. Most recently, True Kids 1 has teamed up with Adobe to provide access to their Creative Cloud to support civic media education.