PERCY JACKSON
AND THE OLYMPIANS:
FREE Online Summer Book and Movie Club
Join Our Online Club:
• Reading The Lightning Thief
• Online Message Board Discussions
• Streaming the Movie
• Live Panel Discussions with Lightning Thief Experts
• Create a Radio Play of one of the Book Scenes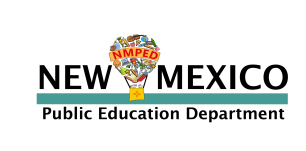 The TK1 Youth Council exists to amplify the power of our youth in decision-making through deliberation, informed action, and digital media.
The Youth Council's first major event is The Future of our Water, to be held on Friday December 9th at the TCA. All details here, and teaser video on the right!
The Youth Council believes in a community that:
Creates youth-driven, positive change

Advances policies that are youth-relevant, youth-informed, and incorporate the 7th Generation Principle, with all policies addressing sustainability and how they might potentially affect people seven generations from now

Values, prioritizes, and solicits a representative and inclusive youth voice in its decision-making

Educates youth on civics and decision-making so that they can effectively participate

Youth want to stay and thrive in, growing up securely and confidently

Doesn't stereotype knowledge or ability by age

Effectively uses media to capture and broadcast an informed and engaged youth voice

Creates spaces for youth to gather and discuss major issues shaping their lives

Uses youth-created and -gathered data and evidence to ground and advance decisions.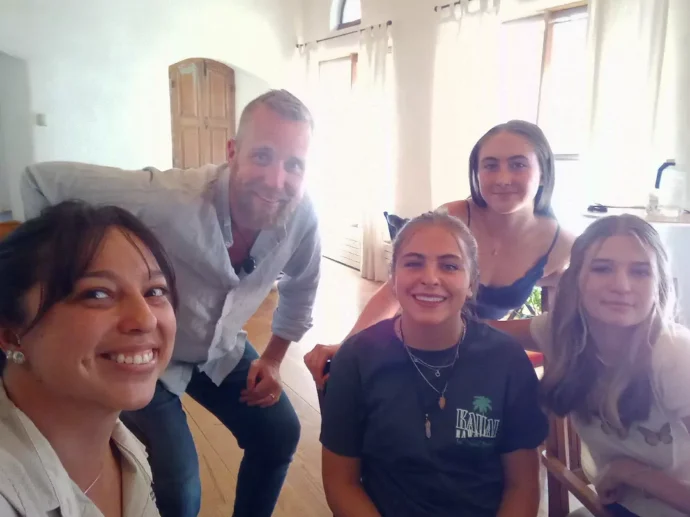 ABOVE: Summer '22 Youth Council Meeting with Town of Taos Council Member Corilia Ortega.
Recognizing that the Youth Council is a new entity that will routinely learn in order to better sharpen its activities, we nonetheless will focus on the following four set of intertwined activities in our first year (2022-23) of operations.
I. We will provide demand-based feedback for government, business, agencies etc. to better incorporate youth opinions and perspectives into wider decisions and programs. This includes:
Providing written or verbal feedback on specific demands and requests

Creating presentations for Town Council, County Commission as needed

Creating a Youth Council "Stamp of Approval" to approve of specific activities performed by government, businesses, agencies, etc.

Using surveys and interviews to capture wider youth feedback and opinions; performing web-based research to inform Youth Council responses.
II. We will convene youth-led dialogues focused on big topics shaping our future, with an emphasis on discussing big, positive, and solutions-oriented ideas, using media as a key tool to advance collective understandings. This includes:
Planning, organizing, and convening two Future Dialogues. The first is

The Future of our Water

on December 9 2022, and the second is The Future of our Food in May 2023.
III. We will lead awareness- and consciousness-raising activities designed by, led by, and for youth, using media as an innovative supporting mechanism. This includes:
Running workshops designed to help youth on any given issue (e.g. mental health, college preparations)

Leading composting, recycling, gardening efforts

Organizing concerts and special events

Making videos or other media on important local careers and opportunities

Making videos to advance specific issues, including challenges, common understandings etc.

Using media to advance or perform an accountability/ombudsman function (e.g. tracking decisions, processes of elected officials).
IV. We will actively design, collect, synthesize, and contextualize youth perspectives using youth-driven data and evidence. This includes:
Using online surveys (disseminated in classrooms) to solicit youth opinion on specific issues

Using video to educate youth on issues, and then capturing immediate feedback to help create representative decisions

Creating Reflection Papers to summarize and synthesize youth perspectives on big issues

Performing web-based research to learn from other contexts and create lessons for the Youth Council to understand and potentially adapt.
Funding
We recognize with enormous gratitude the LOR Foundation as the major seed funder of the Youth Council, ensuring we can meet regularly and can stage both of our Future Dialogues over 2022-23. We also recognize with great gratitude the New Mexico Humanities Council for support through its Democracy and the Informed Citizen partnership program.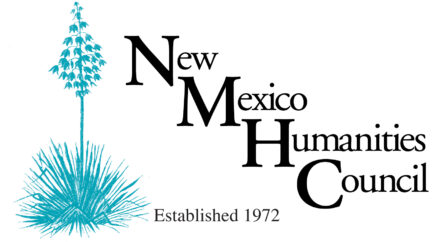 Values
Our youth must be highly and routinely educated in media (including media tools, media technologies, and media literacy)

Our youth concerns must be soundly educated, incorporate multiple perspectives, representative, transparent, heard, respected, and ultimately addressed

Our youth must advance diversity, balance, representation, equity, and inclusion in decision-making to see and understand all perspectives, incorporating age, ethnicity, socioeconomic background and so on

Our youth must hold ourselves to the highest standards, being accountable and responsible to our words, actions, and decisions.

Our youth must, where and when possible, demand data, information, and evidence to underpin our advocacy and decision-making

Our youth must demand and help shape safe learning outlets for our expression

Our youth must continually learn by doing.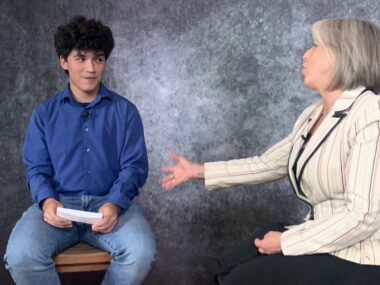 ABOVE: Youth Council member Carlos Miller interviews Governor Lujan Grisham!
The Taos News covered the launch of the Youth Council, alongside the Town of Taos creating a new position for a Youth Councilmember. Read the article here.
Thank you for your support.
Yes! I want to make a tax-deductible contribution to support the AMAZING programs of True Kids 1.