Join True Kids 1, the TK1 Youth Council, and the NM Attorney General's Office on Thursday, February 16 2023 for a vital discussion on our children and their online world. What are the social-media platforms they use everyday? How dangerous is today's Internet — and how do we keep our children safe? How can we better moderate screen or app addictions? We parents have so many questions!
At the Taos Public Library from 6-7:30pm, we'll feature FREE FOOD AND FREE CHILDCARE. Tickets are free too!
The event will start with a short roundtable among TK1 Youth Council members to bring all of us up to speed on today's teenager and the mobile internet. Then we'll engage in discussion with two experts from the New Mexico Attorney General's Office.
Katherine Trujillo. Special Projects Coordinator, Community Safety Awareness Coordinator and Educational Consultant for the NMOAG. Katherine has been in the education sector for 19 years as a teacher, principal, educational consultant and a mentor to students/youth, teachers and principals in NM. She educates our New Mexico families and communities through community outreach and safety awareness in the Training and Development division within the NM Office of the Attorney General.
Angelique Sedillo. The STOP grant trainer and Community Safety Awareness Coordinator for the NMOAG. Angelique has also worked for 19 years in the education sector. She connects parents to resources needed between home and school to further students' academic and social success. Her position plays a vital role in further increasing parental involvement within the school and district.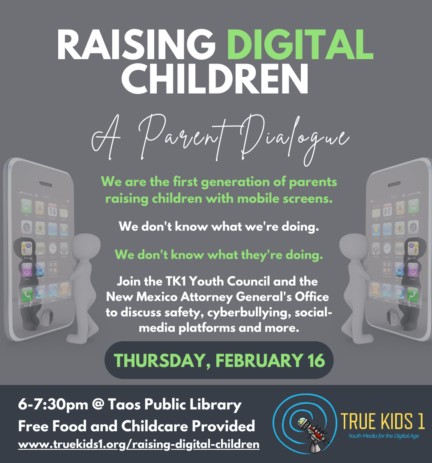 SOURCES FROM The Handout distributed at the Event:
9 Hours: Amount of time per day 11-14 year olds spend on screens outside of school. Centers for Disease Control.

Website

.

63% of US teens use Snapchat every day. Website.
62% of the US population accesses YouTube daily. Website.
63% of US teens: online harassment is "a major problem". Website.
55% of US teens have ad recall after watching 0-2 seconds of an ad on Snapchat. Website.
$13b: TikTok's 2022 ad revenue; projected $27b by 2027. Website.
1 billion people access TikTok every month. Website.
40% of TikTok users don't use Facebook. Website.
95 minutes: daily usage for average TikTok user. Website.
67% of all TikTok users in the US are 13-24 years old. Website.
Between 1/3 and 2/3rds: Americans who report "being lonely". The New York Times

. February 14, 2023.

Link to article

.

TikTok is a "superior system, powered by artificial intelligence… of information finding users, rather than the other way around." The New York Times. December 20, 2022. How TikTok Became a Diplomatic Crisis. Link to article.
"In terms of brain development, pre-teens and teens are the perfect targets for addictive products. Social-media interactions… activate the pathways in the rewards center of the brain and produce the neurotransmitter dopamine, which helps motivate the repetition of the behavior. This potential for addiction is only increased by the use of addictive psychological tactics, such as engagement-driven algorithms and notification features." From The Growing Number of Social Media Lawsuits Highlights the Risks of Social Media Self-Harm and Addiction Among Children and Teens. Link to article.
"The number of Americans who report having no close friends at all has quadrupled since 1990… An average American in 2021 spent 58 percent less time with friends than in 2013." The New York Times. February 14, 2023. Link to article.
"Modern technology isn't changing us. It's changing society. This attention economy has commoditized our time and turned us into products to be bought and sold." Mark Manson. Link to webpage.
Images created by the AI-powered DALL-E outpainting technique. Website.