Justis Daniels Speaks With TK1
Youth activist and True Kids 1 Jr. Mentor Justis Daniels spoke with youth in the social media team of our Digital Day Camp about his groundbreaking work leading protests in Flagstaff, AZ. Justis coordinated with the Mayor and Chief of Police to ensure that police left their guns in their cars, distributed water, sunscreen and masks, didn't enforce the evening curfew, and even took a knee in solidarity with the protesters. In exchange, the protesters agreed to be peaceful and not block street traffic. Justis continues to spread his message of the importance of discourse and collaboration between organizers and community leaders as our country seeks meaningful and lasting change. To further his efforts in promoting justice for all people, he is creating a nonprofit called Coalition for the People, based on the principles of discourse, education and action. True Kids 1 is proud to support Justice's platform. The cover image is an Instagram post created by the team after their discussion with Justis.

Kids learn multimedia skills at nonprofit TrueKids 1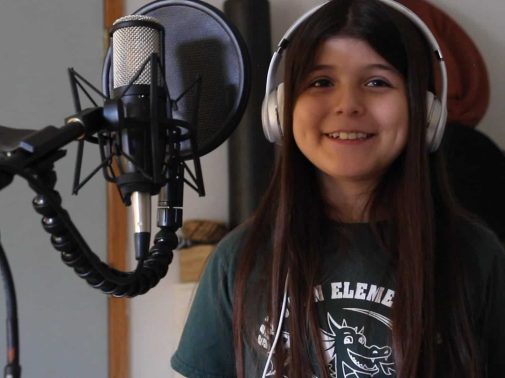 True Kids 1, a media-literacy and training nonprofit for students in grades K-12, is on a mission to promote digital leadership and open career paths for kids."We focus on having the kids be thoughtful and informed media producers, as opposed to just consumers," said Rosey Hayett, the executive director of True Kids 1. "It's also about giving the kids the skills and experiences they need to be successful in the digital economy — the creative economy — of New Mexico."The organization, founded in Taos in 2017, partners with schools and industry leaders to get kids involved in socially engaged media production. It currently serves around 800 kids, and recently announced its registration for summer programs is still open.
True Kids 1 Youth COVID-19 Zoom Forum
As part of our coverage of the COVID-19 outbreak, True Kids 1 is hosting a series of zoom forums among youth leaders from New Mexico, New Jersey, and Arizona. Here is part 1 of our most recent forum.
Laptops for Taos Students
In response to the closure of New Mexico schools, True Kids 1 has created a campaign to raise funds for the Taos Municipal Schools to purchase 200 laptops for local students to connect them with online learning.
So far we have raised $75K towards our goal of $140K, thanks to everyone for supporting our students' success in this challenging time! The campaign letter is featured on the Taos News website.
A letter from our Board of Directors
Dear all,
We are about to experience the full impact of the measures taken by the authorities to limit the spread of COVID 19.
As disquieting as the pandemic is and as disruptive as the need to social distance will be, it has also revealed the need for distance learning and the holes in our community where both technology and the means to deliver it are lacking. Fortunately our community, in full response mode, has Kit Carson Broadband, True Kids 1, and the Municipal Schools collaborating to compile an inventory of computers and broadband access, to identify what is needed and by whom, so as to ensure equity in the delivery of home schooling to the children in our community.
LOR foundation has committed to help fill the computer gap and Adobe have committed to making its suite of products available for free for the duration of the crisis. This moment represents an opportunity for teachers to utilize technology which will enable them to support online student learning. It will also enable students to remain engaged with their studies and be exposed to technology and tools which will stand them in good stead both academically and vocationally.
The tools which will be deployed will still encourage the evolution of critical thinking and collaboration amongst students. You will be at the forefront of this pioneering endeavor working closely with teachers, workshop mentors, Adobe support and other resources to support online student learning.
This is extremely important work which you will be undertaking in the coming weeks and months, for which we your Board of Directors and the community at large are extremely grateful and proud of the service you provide.
Please be safe and follow all the appropriate public health protocols. With the fondest regards,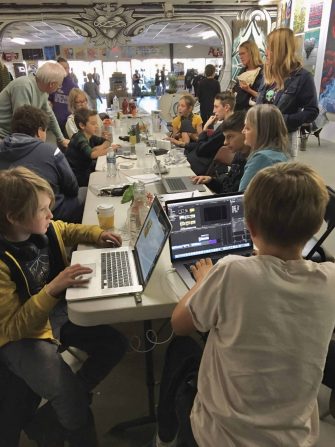 TK1 Pro student teams continue to engage with the community. 
We offer access to online workshops on topics like interview techniques and interpersonal skills, and Walden the award winning educational video game.
Our TK1 Pro student team continues to engage with the community through our radio shows, social media, phone/video interviews, and onsite productions (with appropriate social distancing). 
Through our partnership with Adobe, we'll be giving our students access to their Creative Cloud, along with tutorials on using digital tools such as Photoshop, Premiere, Audition and Illustrator.
Our programs guide students through the use of these and other tools in order to complete civic media projects.
With the scale and duration of this crisis still unknown, True Kids 1 is committed to supporting students, teachers, parents, and administrators in realizing the potential for collaborative online learning and continued civic engagement. 
Once we've heard from you we'll take the rest from there.